Anna Dora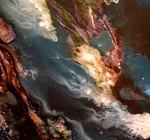 Anna Dora is an Icelandic artist based in Winchester, Hampshire. She paints abstract, passionate paintings influenced by her home country.
Her particular fascination is texture and various multidimensional elements in paintings that allow the art to come alive and evolve under various types of lighting.

Dora uses layering to create texture from lava rocks and dust she brings over from Iceland, creating a hard and rough surface. This contrasts with salts that flower into crystals giving a softness and beauty to her work.
Anything to do with earth's atmosphere is her subject; the colours and textures of nature naturally appearing in unusual etherialand celestial cosmic scenes.